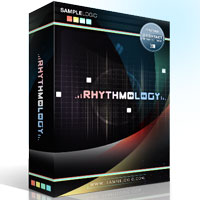 Sample Logic Rhythmology
$35.00

Urban Atmospheres 5.1 [9 DVD]
$180.00
$99.90
| | | | |
| --- | --- | --- | --- |
| | Class A Samples 10 Packs in 1 EDM vs Future House [WAV / Sylenth / Massive / SERUM] About Library Class A Samples are back with an insane sale pack - "10 EDM and Future House packs in One" for discounted price. | $15.00 | |
| | 100 Minimal Techno Drum Loops [WAV] About Library 100 x Phat, Punchy and Groovy Minimal Techno Drum Loops. Tempo-synced at 125 bpm and served in industry-standard 24-bit Wav format, Royalty Free Samples. | $5.00 | |
| | На этом диске собраны лучшие звуки со всемирно известных синтезаторов.Сумасшедшие кислотные соло, рэйвовые басы. | $10.00 | |
| | На этом диске собраны лучшие звуки со всемирно известных синтезаторов.Сумасшедшие кислотные соло, рэйвовые басы. | $10.00 | |
| | Big Fish Audio 101 Below [Multiformat DVD] Living somewhere on the other side of the BPM dial, you have reached your down tempo destination. Welcome to 101 Below. Bunker 8 Digital Labs has coaxed the body... | $30.00 | |
| | | $10.00 | |
| | | $10.00 | |
| | Massive collection of ACAPELLAS on DVD in MP3 192 kBps quality. 132-rainy_day.mp3 20_fingers-lick_it.mp3 20_fingers-short_dick_man.mp3 2_brothers_on_the_4th_floor-kick_in_the_bass.mp3 2_in_a_room-ahora_es. | $35.00 | |
| | Huge collection of ringtones for mobile phones: polyphonic and simple. More then 23000 ringtones, carefully sorted.Also included: 100 JAVA games for NOKIA mobile phones. | $10.00 | |
| | 24 bit & 32 bit Impulse Collection Best WAV impulses from: TC System 6000 LEXICON 960L Lexicon PCM81 & PCM91 EMT250 and others ... | $10.00 | |
| | Piano | $17.50 | |
| | Sequel to the seminal D&B CD 160dB, another essential slice of D&B!"Don't be surprised if the next CD you listen to sounds rather tame by comparison. Overall - Essential purchase for Drum & Bass makers... | $8.33 | |
| | 'Killer Samples Vol 3' from 2DEEP has returned with the highly anticipated pack containing 10 full tracks to sample from that have been inspired by the classic horror movies, thrillers, and Progressive Rock LPs. | $10.00 | |
| | PowerFX 2rAw - Fx In Time First in the FX In Time series, this collection features loops supplied in Acidized .wav and .rx2 (REX) file formats as well as a Reason ReFill. The loops are the result of some... | $10.00 | |
| | Lab tools for the Remixologist. Club Spectrum provides a killer variety of the necessary essentials for making dance music. 4 the floor beats, bass lines, synth riffs to create house, trance, techno, electro, retro, drumnbass. | $7.50 | |
| | House, techno, 2-step, drumnbass styles with beats, bass and synth loops in rex-refill-acid-wav file formats allowing you less time converting and editing and more time creating great dance music. Mix... | $8.33 | |
| | Straight from the tape vaults of visionary producer Bill Laswell, Dub Tactic Manual stokes the dub fires with an awesome collection of Material style dub/ambient elements that transcend musical boundaries. | $8.33 | |
| | If you want real, pure, original funk, you have to go to the source and when it comes to funk, the source is James Brown. The Funkmaster Jabo Starks is on more James Brown classics (Sex Machine, Good Foot) than anyone. | $8.33 | |
| | Power FX 2rAw New World Order [ACID & Refill format] The New World Order series scans the globe to bring you unique loops from around the world. Instruments from places like India, Africa, Cuba, the Carribean. | $10.00 | |
| | PowerFX drops the BOMB!!!! ...Wicked beats and syncopations with variations for butt moving connotations. Ultra modern-futuristically hip, Uptown Breaks is the SHIT!!! 342- Acid/Wav files 229- Rex2 files File Format: Rex/Acid/Wav. | $8.33 | |
| | Singomakers 30 EDM Packs Collection [WAV / MIDI / Sylenth / Massive / Spire / Serum] Singomakers are back with an ultimate collection of 30 bestselling sample packs in ONE available for a discounted price!... | $29.90 | |
| | 75-100 BPM hip-hop grooves, mixed and layered by instruments: drums, bass, guitar, fx, keys, scratches, leads. 76-103 BPM drumloops. Drumkits. Bass riffs. Guitar Riffs. Scratches | $10.00 | |
| | 75-100 BPM hip-hop grooves, mixed and layered by instruments: drums, bass, guitar, fx, keys, scratches, leads. 76-103 BPM drumloops. Drumkits. Bass riffs. Guitar Riffs. Scratches | $10.00 | |
| | 99 Patches 60 Kits Super Pack Pack Summary Class A Samples and 99 Patches are back with an insane 60 Kits Super pack sample collection! 60 Brand new kits with 348 Files in total, 60 MINI-KITS incl 218... | $10.00 | |
A sample pack is a collection of digital sound recordings, known as samples, for use by composers, arrangers, performers, and producers of music. The sound files are loaded into a sampler—either hardware or software-based—which is then used to create music. Sample libraries appear in a variety of forms:
As a tempo-based musical phrase that can be looped (repeated in tempo with the arrangement), or edited in a cut and paste collage fashion.
Collections of note-by-note recordings of musical instruments for playback on a digital sampler, known as multi-samples. This method of sample playback is to construct a playable instrument, or emulation of another instrument, from a sampler or computer.
One-shot hits or stabs of non-tempo-based audio, particularly for sound effects.
The term sample library, when used in a commercial context, implies a collections of samples that have been produced and licensed for the purpose of being used as samples. Such a library, sometimes called a sample pack, can be distributed either physically (on CD or DVD) or over the internet. Some sampling websites, such as The Freesound Project, utilize user-generated sample libraries.
Individual sample packs can often be found in online libraries or website directories that host the files (free or paid) for download. It is important to know if the samples being utilized are royalty-free or having certain usage restrictions (such as not being allowed in commercial content) when downloading these files. Usually this is stated in the usage rights of the pack or under the Terms of Service on the website they were downloaded from.
Our online store provides a huge collection of sample packs in various formats, like WAV, REX, AKAI, Kontakt, EXS24, Halion, GIGA etc. You can buy sample packs with postal shipping and also download them straight from our website.